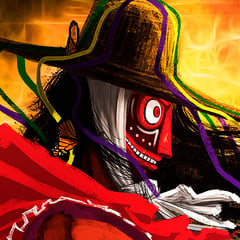 Hector Bustamante
Contact: shizaaba@hotmail.com. Now accepting crypto!
Morelia, Mexico
Summary
Hector Bustamante: concept artist, animator & filmmaker
He began his career as an illustrator and animator in 1999 when he joined VERMIC S.A., producing educational video games, since then he has worked as a draftsman and digital animator. In 2007 he founded his own production company called ESPEKTRO FILMS. His career in film work includes mainly storyboarding and production assistance as well as co-writing and performing animated feature film " Revenge of the Automata " and the animated series "Squadron 20-11 " for the Pan-American Games in Guadalajara, 2011 . His most recent work as creator is the animated short film "Bulletproof", sponsored by the Ministry of Culture of Michoacan and currently showing at the international festival circuits.
Skills
2D Animation
Art Direction
Compositing
Concept Art
Concept Design
Storyboarding
Film Editing
VFX Supervision
Animation Direction
Post-production
Software proficiency